Integrate your impact data
A unique system which seeks to understand your impact
Take your compliance reporting to the next level. Our users go beyond the checkbox by seeking a deeper understanding of their impact data and identifying areas for improvement. While external governance controls may influence our users' indicators initiatives and stakeholder groups, their ultimate goal is to address societal issues.
Consolidate your indicators in one comprehensive system that streamlines the collection and presentation of your impact data. Connect with your stakeholders, import your indicators, and let the system guide you in collecting and refining your impact.
Multiple Sources into a Dashboard
Proven Online Impact Solution
We're trusted with over 1000 initiatives and 1 million users to report on impact.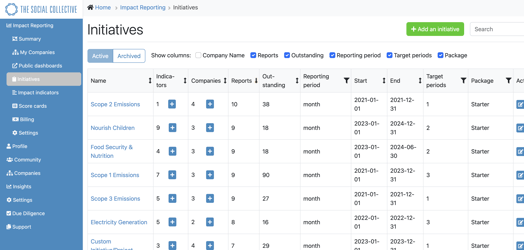 Multiple Initiatives, Projects, Stakeholders
Simplified into an Impact Report system which works. Have your data collected and your indicators brought to life.

Intelligent Indicators, Grouped, into automated Forms
Dynamic form are sent to your grouped stakeholders.

Charts, made to show your impact
Segment stakeholders and enhance your impact with customizable filters and fields for a comprehensive view of your data.
Try it. Let us delve into whether it perfectly matches your data and reporting needs.
Customisable Cloud Portal
Efficiently Enhancing Stakeholder Management, Reporting, and Evaluation
Settings
Our solution streamlines tracking of funding application, implementation, and reporting while maintaining updated supporting documents. This is facilitated through an intuitive, user-friendly online portal, backed by robust customer support.
New User Customizable Sign up process
Cloud and Secure
Leverage our secure online portal, fortified with stringent data verification controls, to safeguard your data. With our solution, your data not only remains secure but also becomes readily comparable, enabling you to articulate your impact story more effectively.
SSO Compatible (Single Sign On)

Security Controls and Activity Logs

Detailed Administration Levels and Approval Rights
Dashboards
From daily management to strategic oversight, our tool ensures businesses align with Sustainability, Corporate Citizenship, and Community objectives. We provide stakeholders with validated data, crucial for informed decision-making in internal impact matrix reporting.
Approval and Moderation Controls